It is a network for sharing knowledge and information resources with foreign universities, Korean studies research institutes, and other major libraries, supporting Koreans overseas and Korean studies researchers, and constructing international research information networks.
Conclusion of agreement -> Sharing the NAL`s information resources -> Supporting Koreans overseas and Korean researchers



- Foreign university libraries (East Asian libraries, Korean studies libraries)
- Overseas Korean cultural centers, Korea-related research institutes
- Other foreign libraries (parliamentary libraries, public libraries)
* See the list of agreement concluded institutions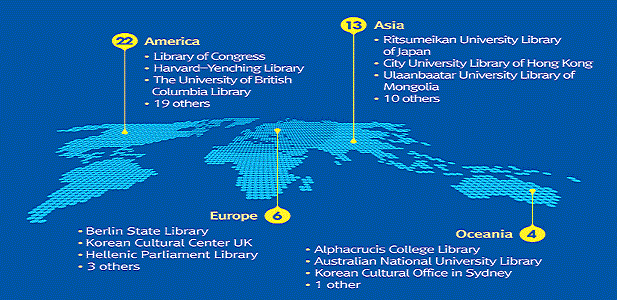 - Provision of the Digital Library`s full-text databases: for viewing and printing purposes
- Material exchanges, database exchanges, and/or personnel exchanges upon mutual consultation
* See the full-text databases (connected information is included.)

- Request: Send an official request to the NAL.(The library description form is needed.)
- Consultation: Discuss related matters such as document contents, date, and method.
- Conclude the agreement: Sign the agreement and exchange it.
(Signing ceremony: representatives from each library meet in person International mail: exchange of signed agreement via airmail)
- Follow-up: Introduction of program installation, issuance of IDs and passwords, etc.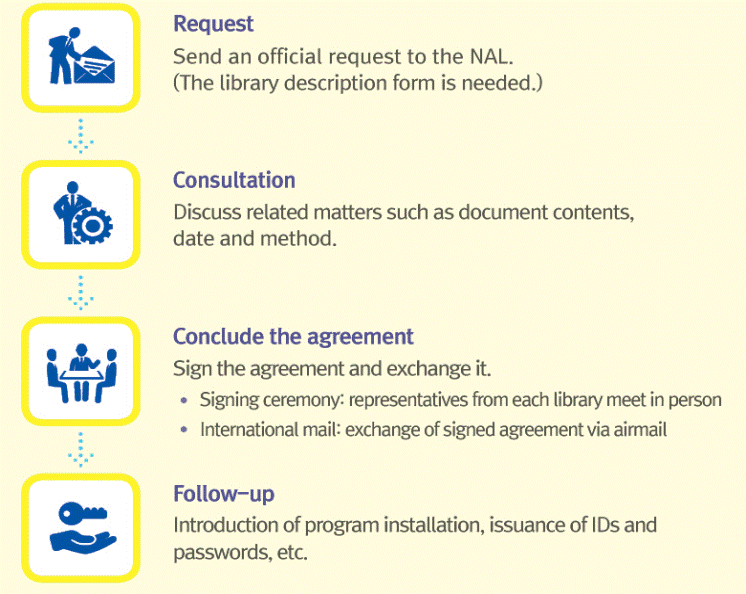 - For the access, install the NADL program on the designated PCs
(Window98/ME/XP/2000/Vista/7~8) and enter the ID and password granted.
* Without the conclusion of agreement, 100 million volumes of connected information can be
accessed at the National Assembly Digital Library (www.dl.nanet.go.kr).
* Details of the connected Information

Details of the connected Information

| Institution | Contents |
| --- | --- |
| National Assembly Library | Copyrighted public records, theses, articles, etc. |
| KERIS | Domestic and international treatises, etc. |
| KISTI | Bibliographies of journals and proceedings, etc. |
| National Library of Korea | Domestic and international books, old books, etc. |
| National Research Foundation of Korea | Domestic and international books, old books, etc. |

- +82 2 6788 4243, coop@nanet.go.kr

- For ID-and password-related inquiries: +82 2 6788 4258, digitcoo@nanet.go.kr
- For Digital Library-related inquiries: +82 2 6788 4250, nadinfo@nanet.go.kr